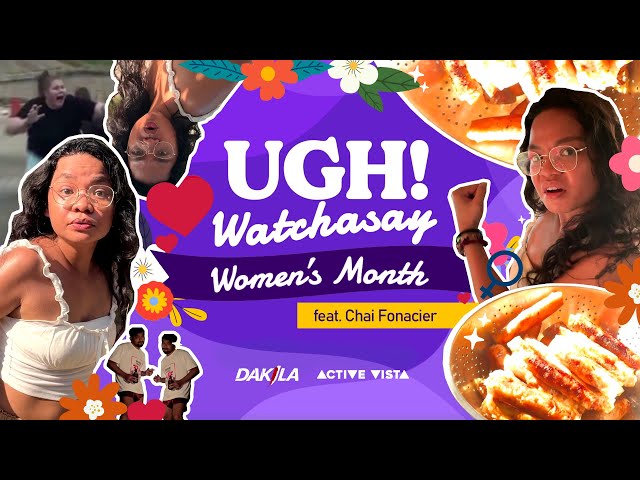 When it comes to women's issues, the obvious still warrants repetition: it's the woman who has the say. 𝘜𝘎𝘏! 𝘞𝘈𝘛𝘊𝘏𝘈𝘚𝘈𝘠: 𝘞𝘰𝘮𝘦𝘯 𝘰𝘯 𝘞𝘰𝘮𝘦𝘯'𝘴 𝘐𝘴𝘴𝘶𝘦𝘴 𝘛𝘰𝘭𝘥 𝘣𝘺 𝘞𝘰𝘮𝘦𝘯 concludes DAKILA-Active Vista's commemoration of National Women's Month 2022 not with a celebration but with a call to action: listen to her.
In the face of inequality made worse by the pandemic, of backward attitudes and their enablers in positions of power; and in defiance of deep-rooted stigmas towards contraceptives (Hindi 'yan maka-diyos!), teenage mothers (Batang ina!), safe spaces (Magdamit ka na lang kasi ng maayos!), let us forget what we think we know and lend our ears. This genre-bending mockumentary gives the mic to their many voices: women young and old, wives, mothers, workers who are very often the breadwinners—because the "haligi ng tahanan" is a woman, too. Their words lead the conversation on their health and freedom, their lives and livelihoods.
Meanwhile, the rest of us must continue to take a stand for women. 𝘜𝘎𝘏! 𝘞𝘈𝘛𝘊𝘏𝘈𝘚𝘈𝘠 also urges us to vote for women's rights this #Halalan2022: to get to know our candidates and their positions; to examine their track records. Let us vote for—and let us be—genuine champions for women.
Watch 𝘜𝘎𝘏! 𝘞𝘈𝘛𝘊𝘏𝘈𝘚𝘈𝘠 here, and remember to subscribe to Active Vista's Youtube Channel.